Inkosteam (Standard)
A high-performance high-pressure steam cleaner for everyday use in practices and laboratories and wherever stubborn dirt has to be removed in very cramped spaces. It's directly connected to the water line, meaning tiresome hand filling is a thing of the past. The steam jet stays constant due to Hedent's fully automatic boiler system and steam preparation type, both Hedent's patented utility models.
The boiler and heater are made of high-quality stainless steel while the steam jet on the hand piece is interchangeable for aligning the strength of the steam jet to the working area (steam jets 1, 2 + 3 mm also available). You can also easily remove lime deposits in the system with Hedent's special lime scale remover. There's a 24-month warranty with warranty extension after warranty inspection.
We recomend to use Hedent Inkoquell 6 water softener to insure the removing of minerals such magnesium carbonate to prevent deposition of lime scale.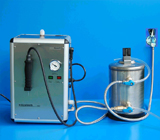 Technical Specifications
height / width / depth 420 / 270 / 230 mm
weight ca.12 kg
boiler volume 2700 ccm
water content 1,8 Liter
operating pressure 4 bar
internal control voltage 24 V DC
connection 230 – 230V 50/60Hz 2000W
line safeguarding 10 A
protection class I
Inkosteam (Standard)
106 502
Hedent's lime scale remover
800 g
100 201